Students shifting from brick-and-mortar learning institutions must be the trend during these times. With the global health crisis, parents may prefer their children to enroll in online classes rather than compromising the health of their children. With online schools, students will be able to ensure social distancing, which is a basic health protocol to stay away from the illness.
For example, in the Philippines, where face-to-face learning is not allowed during this pandemic, laptops and other computing devices are now selling like the proverbial hotcakes. When choosing a laptop for your child's online education, it helps if you consider the following.
Wider Screen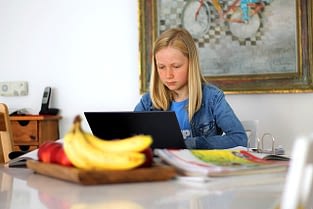 Going for a laptop with a widescreen must be the best option for your child's online education. A widescreen will help your child see clearly what the teacher is teaching. Online conferencing with other students may also be used as a teaching methodology. This means that your child will be able to see each of his classmates. It will not be a big deviation from traditional school he was used to too.
A widescreen laptop will also make it easier for your child to type because it has a wider keyboard.
Higher Resolution
When choosing a laptop for your child's online education, it is best to go for models with 1920 x 1080 screens or more. This allows simultaneous viewing of works on the screen as it can display more additional lines. A screen's resolution can determine the color quality and brightness, which can make a better experience. It will surely help your child stay in front of his laptop for long hours.
Superior Audio Quality
In some cases, the audio quality of a laptop is usually not considered as important as the screen resolution. But in this case, where the laptop is to be used for the online learning of your child, you have to check the audio quality. Your child should clearly hear what his teacher is teaching; otherwise, you may have to buy accessories to improve the sounds.
Higher RAM
The RAM or random access memory is the system memory of a laptop or any computing device. You should buy a laptop with higher RAM for your child's online education because of the lectures that he must save. A higher RAM will ensure that it will be easier to access data.
There may be more things to consider to help your child succeed in his online education. You can also start improving one of your rooms to be his classroom, and providing a comfortable seat will also be of great help.